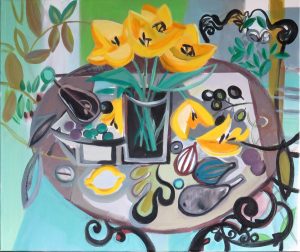 Visiting Marissa in her home outside Castle Cary provided quite an insight into how she practices her art. Since she joined BAS and started exhibiting with us two years ago she has become known and admired for the strong compositions and colours of her still-life paintings. Working in oil on canvas each object, while clearly recognisable, is presented in a subtle non-realistic way to express balance and definition through the use of tone, colour and strong, flowing lines. The result is a highly recognisable and individual style.  When I arrived at her home what faced me laid out across three large rooms was a mixture of these still life studies together with her current work in progress.  This consists of large works recently or nearly completed which are very different, but which explore related themes in new ways.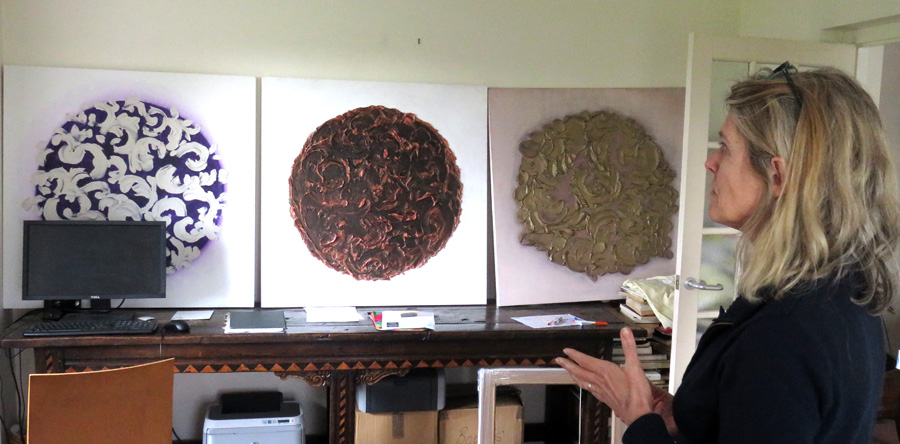 She explained how the still life studies had been triggered by placing arrangements of flowers and domestic objects on a very decorative circular caste-iron table in her Somerset garden and starting her work on them in the open air.  This had been interrupted when earlier this year she was invited to carry out a residency at a rural art centre in Spain.  There, working with a group of other artists, she had found herself in a Spartan environment with no table she could use as she had been doing.  Instead she was faced with a view of a deserted and almost desert gravelly white countryside.  This stretched as far as the eye could see, but was punctuated every few inches by green dandelion plants fighting to survive.
This might have been too much for many, but Marissa opened herself to examining what was in front of her both visually and emotionally.  Armed with an Ipad, for lugging large canvasses to Spain was not realistic, she set about making studies of the leaves of the dandelion plant and the textures of the gravel.  These she took home to Somerset.
Here she has been working on a series of large paintings using the leaves as monochrome black designs on large backgrounds both of canvas and hessian. These she paints in acrylic.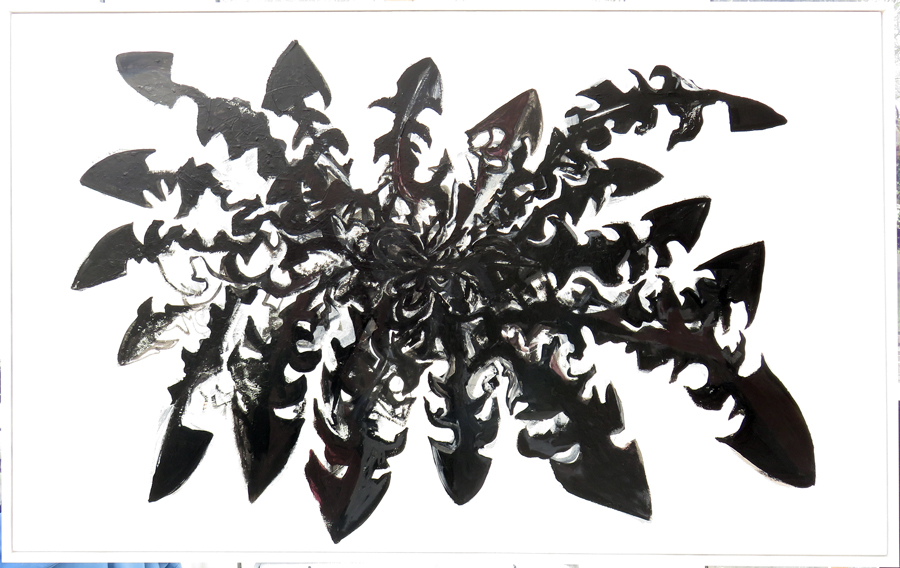 Combining the inspiration of the circular caste-iron table with the textures of the desert gravel, she then set about working on a series of paintings of discs filled with textures and modelled using a variety of contrasting colours, clays, pigments and patterns.
Marissa likes to work on several paintings at the same time, and though she often starts with small preliminary sketches, she finds it essential to spend lots of time reflecting on and revisiting each work so each grows under the influence of what is around it.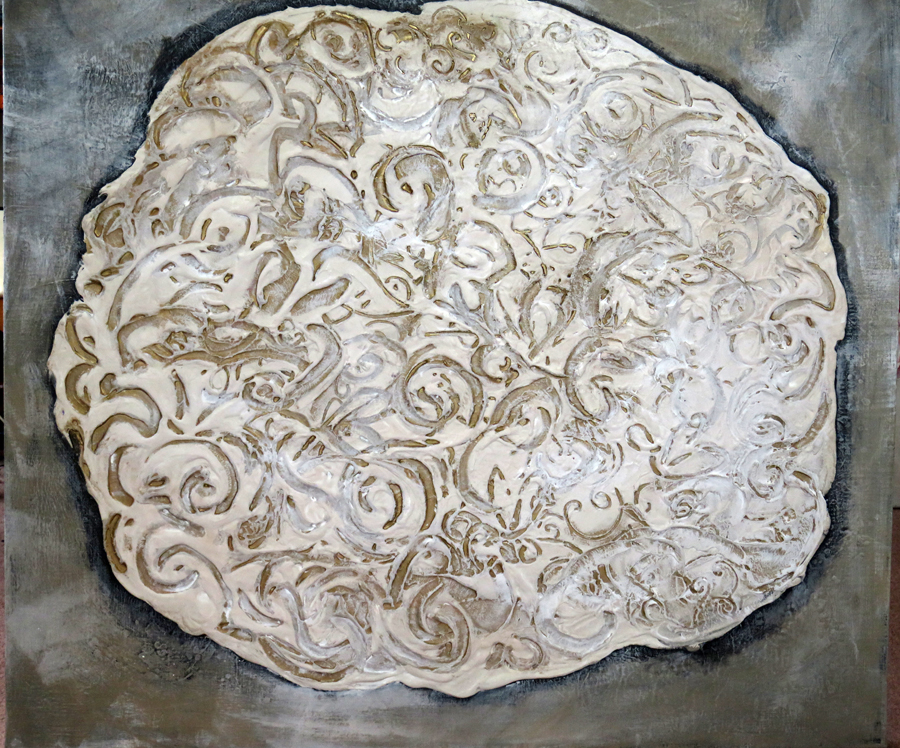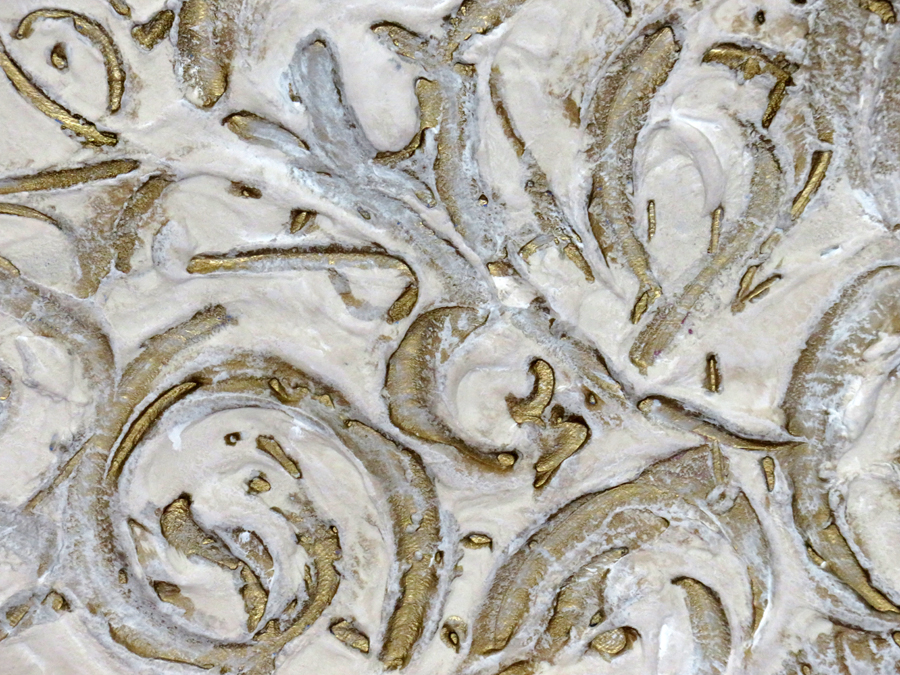 Marissa comes across as a dedicated artist who is determined not to stand still, but insists on following where her vision and intuition leads her.
She spent her early childhood in Sri Lanka, was educated in Ireland and on leaving school she went straight to the National College of Art and Design in Dublin for a foundation year before completing a diploma at the Somerset College of Art in Taunton.  From there it was off to do a BA in Painting and Fine Art at Cheltenham.  On completing that she did a masters degree at the R.C.A. where she met her husband Tim. While there she participated in an Arts Al Fresco exhibition at the Royal Academy.
Despite bringing up three boys and a girl, Marissa has  been exhibiting, besides with us at BAS,  at Panter and Hall Pall Mall, Bath Contemporary, Wykeham Gallery Stockbridge and La Fontaine Contemporary Arts, Epsom.  Currently she is working flat out to complete work for her first solo exhibition at the Denise Yapp Gallery in Monmouth. We wish her every success.
John Baxter 22-3-17