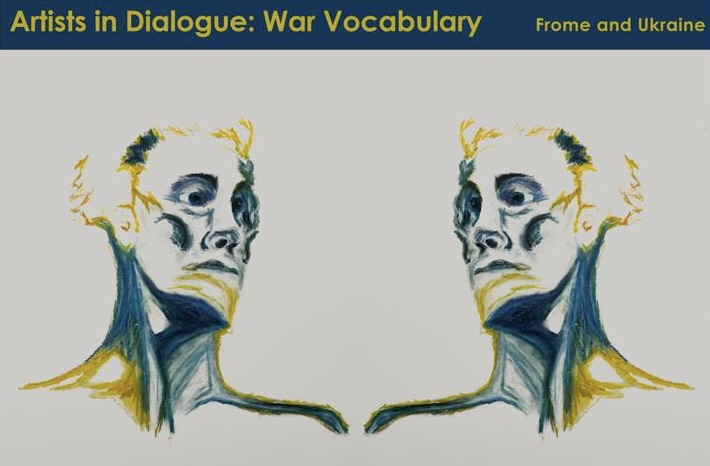 Since spring 2022 this group evolved through the inspiration of Neil Oliver (no, not the famous one!) followed by a lot of hard work and serendipity from seven Somerset artists. A Ukranian, Anna Kovalevska, who has lived in Frome for six years, became a linchpin of the group, translating our zoom meetings and nudging us onto a virtual internet platform where we could 'converse' using our shared language of art. Some boards are on specific agreed themes-war, conflict, peace, but purely image based, virtual 'conversations' were added. As you can imagine, some of the images have been challenging, but the most poignant time for me was when the Ukranians asked if they could have a board purely for them to remember their homeland as it was before the invasion. Those paintings are a glorious explosion of colour and beauty.
We have also, as a UK group under the direction of Ukranian artists Volodymir Bakhtov, made a heliografitti of a symbol for strength uniting the early Celtic oak and Ukranian trident symbols. This is the image of unity for our poster.
We obviously cannot exhibit the Ukranian original works so this exhibiton is going to be of limited edition, high quality giclee prints. Nor will title labels include the names of the artists. Through these actions we hope to underline the ethos of the whole community; an exhibition of a group in conversation, not for promotion of individual artists. We hope as many people as possible will come to view our silent words and standwith us alongside the Ukranian artists.