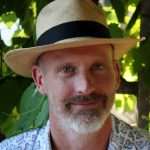 On Thursday 7th December the Bruton Art Society held its Christmas Party, at which new members were welcomed. We were also fortunate to receive an excellent lecture by James Russell on the work and life of the artist and designer Eric Ravilious. Ravilious was one of the most original and promising young artists in Britain in the 1930s. An official war artist in the Second World War his life was tragically cut short in a plane accident in 1942.
James Russell has gained a strong reputation as one of the leading experts on British art of this period. He is known to many as the organizer of the magnificent retrospective of Ravilious' pictures that was held at the Dulwich Picture Gallery in 2015. It was this exhibition that revived Ravilious's reputation and confirmed his leading place in 20th century British art.
In his lecture James took a biographical approach to the artist, telling us of his family, his study at the Royal College of Art as a designer, and of his development as a muralist and book illustrator in the 1930s. We heard of his close friendship with Edward Bawden and of his relationship with leading avant garde artists and critics of the time, such as Henry Moore, John Piper and Herbert Read. At every stage we were introduced to leading works produced by Ravilious and given perceptive commentaries about the artist's pictures that emphasized their uniqueness.
Ravilious originally studied to be a designer and the sense of design is clear throughout his art. It was a sense that took in recent modernist approaches to composition. One of the strong features in Ravilious' work is the way he combined such a radical approach with an intense appreciation of the everyday. This comes out most strongly in his lithographic series 'High Street', which records shop fronts of the time. As well as being admirable works of art, his pictures give us a poignant sense of the period in which they were made.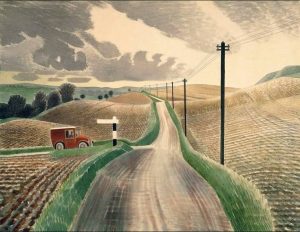 There is throughout a lurking sense of the ominous that reflects the mood of a time fearing unsettling political change and the growing danger of war. Ravilious was also innovative in his manner of painting, in particular the controlled dry way in which he applied watercolour, achieving new textures and tonal effects.
The talk ended with his great wartime scenes in which ships and planes in action dominate. Ravilious loved in particular the excitement of viewing earth and sky from a plane. It was a fascination that was to cost him his life in the end.
Members of the Society greatly appreciated James' talk and there was much enthusiasm too for his fine books on Ravilious which were also available.
William Vaughan