Thurs 21st January at 2.30 p.m. at Caryford Hall (BA7 7JJ) We do encourage you to come to this.  It is the time when you can voice your opinions about the society and vote members onto the committee.  This year we will be presenting a revised constitution for the Society.
Will Vaughan
Every bit as exciting as the AGM if not more so will be the talk that Will is giving us on Samuel Palmer which will follow the AGM at about 3.30 p.m. Our previously planned speaker was unable to come, but we are delighted that Will can step in.  This is what has been said about Samuel Palmer and Will's book on him.  (JB)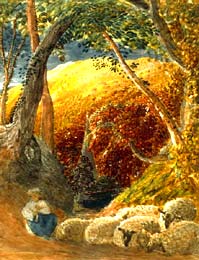 Samuel Palmer is one of the most original and inventive landscape painters of the Romantic era, in the early nineteenth century. Although not as well known as his contemporaries, Turner and Constable, his intense depictions of the English countryside have always inspired a strong following of enthusiasts, and his innovative way of depicting this has been seminal for later British artists, such as Paul Nash, Graham Sutherland, John Piper and Eric Ravilious. In his new study, Samuel Palmer: Shadows on the Wall, Art Historian and Print Maker William Vaughan explores Palmers art anew. He publishes many formerly unknown documents that change the understanding of the artists life, particularly his early years. He also provides a fresh interpretation of the artist's practice, showing its connections with other critics of the establishment of his time, such as the Pre-Raphaelites.
William Vaughan curated the Bicenary Exhibition of Samuel Palmer's work that was held at the British Museum in 2005. A former Curator at Tate Britain, and Professor Emeritus of History of Art at the University of London, he has organized innumerable exhibitions in Britain, Europe and America. An award winning writer, he has published several books on British and European art, including Romanticism and Art (Thames and Hudson), British Painting: The Golden Age (Thames and Hudson), Caspar David Friedrich (Phaidon), William Blake (Tate) and German Romantic Painting (Yale University Press).
In this talk William Vaughan will provide an introduction to the art of Palmer and discuss the new findings in his book.