Sacred Spaces is the title of BAS member Julie Jenkins' exhibition for Somerset Art Week 15th to 30th September.   It is open 11-6pm Thursdays, Fridays, Saturdays and Sundays in her home no 2, the Old Police Station, South St., Wincanton BA9 9AZ.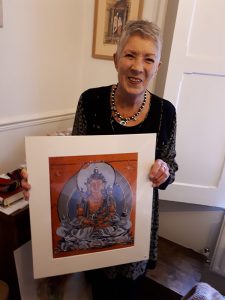 This is a quietly powerful and unusual exhibition for Julie is an artist whose work for many years has been inspired by her relentless desire to explore. Her travels though mean far more to her than simple holidays, for on them she always engages in the life, art, culture and spirituality of the places she visits and has made many friends while doing so. 
Her travels have taken her to North Africa, Morocco and Tunisia, South East Asia, Central Asia, Indonesia, Malaysia and China.  She has also lived in India, Kashmir, Nepal and Bhutan. In all these places she has painted, sketched and photographed bringing back images she has reflected upon deeply and which she has worked on and completed at home in a variety of media in a sensitive, bold, and highly individual style. To see all this brought together makes a visit to her home really worth while.
As well as framed works there are mounted prints and cards to be seen.
John Baxter