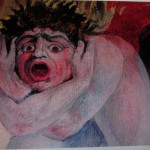 Dr Alexander Sturgis, who has recently taken up the position of Director of the Ashmolean Museum in Oxford is coming to deliver a lecture to Bruton Art Society which he has entitled Time at the Museum. In it he will be considering  the role of museums in making the past present and in which he looks at the way in which the immediacy of museum objects can both help and hinder historical understanding. He will be doing this bearing in mind that the Ashmolean, as one of the first public museums in the country, if not the world, has an incredible collection which spans millennia from 10,000 B.C.E. to the present day.
This will be our end of year Christmas meeting and will be in the
CARYFORD COMMUNITY HALL
Maggs Lane, Castle Cary  BA7 7JJ
THURSDAY 11th December 2.30 P.M.
£5.00 admission to include seasonal refreshments.