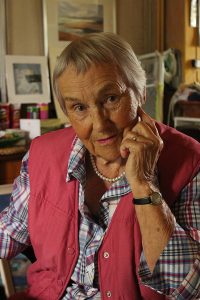 As one of our longest serving, well liked and much admired members, it was entirely fitting that in 2017 Swan was awarded the Joy Barnes Trophy Award for her painting of a coastal landscape.  This award, chosen by the committee, is for an outstanding work in our annual exhibition.
Swan came to painting in her early thirties when she and her husband Patrick settled in their home in Evercreech some sixty years ago. They have never moved and it was there that they brought up three daughters and where she was able to develop her interest in art and in painting.  This had first been triggered by a teacher at her school in Kensington, but she feels she really got going when she joined the art classes run locally by Reg Gammon whose teaching inspired her and whose work she greatly admired.
Visiting Swan at home is to be brought into her combined kitchen, living-room and studio which stretches right across the house, its walls displaying an intriguing selection of paintings done by friends and local artists whose work she admires, together with stacks of her own work and sketchbooks. Prominently set up by the window stands her easel and paints. This shows what a central part her art plays in her life.  Again it was Reg Gammon who introduced her to Bruton Art Society where she served on the committee for many years, organising trips and activities and making many long-lasting friendships.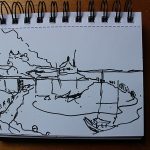 The subject matter of Swan's work is landscape, but she approaches this in a very distinctive way.  Considering herself "useless with a camera" she sallies forth locally or on holiday in Italy or Cornwall with usually rather small sketchbooks and a black, felt-tip pen.  With these she produces bold and simple line drawings which are left like that or sometimes added to with some watercolour to indicate colours.  She then returns to her studio and works in oil on a fair sized canvas working out strong lines and rich colour as she feels moved.  The results are works which are both evocative of place and atmosphere with a strong personal mood to them.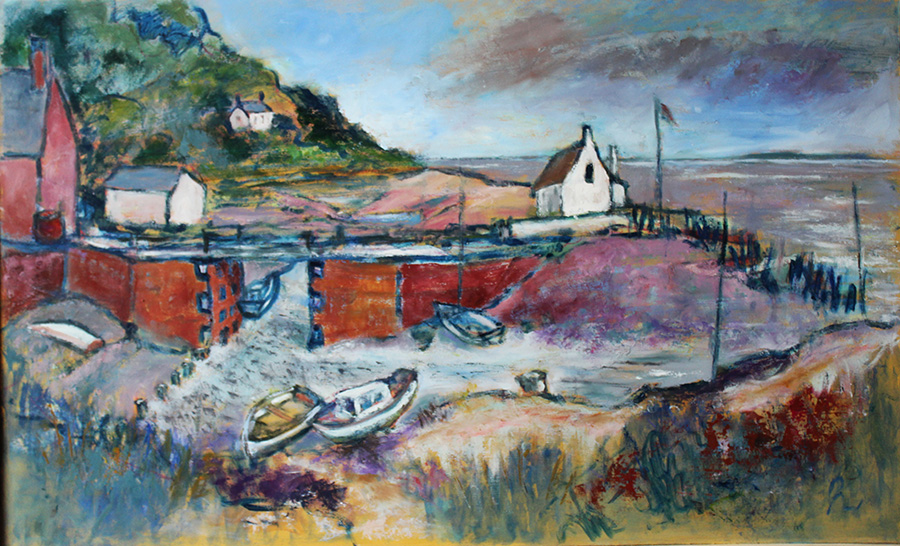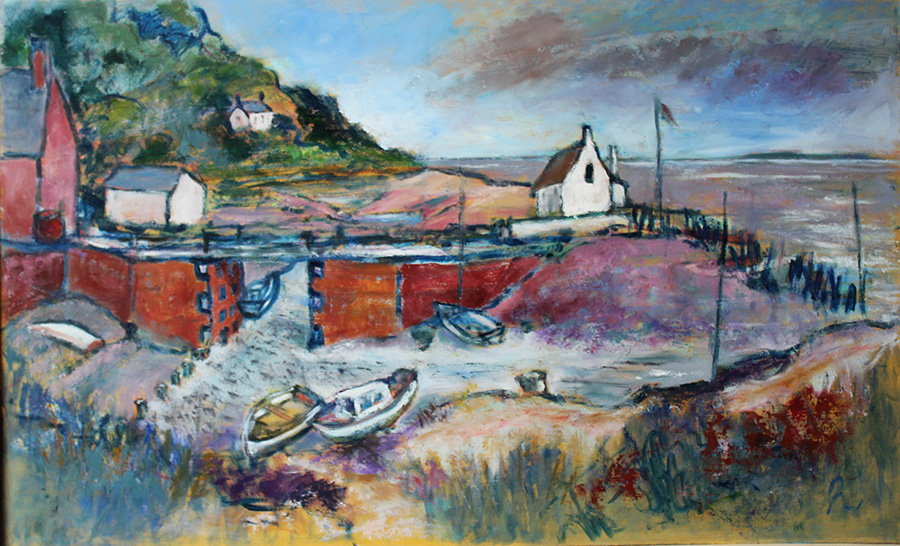 Together with Bruton Art Society, Swan has for some time been a member of Artists 303 and in addition to their other exhibitions, took part when they had an exhibition in Cork Street.  She has also had a solo exhibition in Bridgewater and her work has been hung in many places, including her work being selected for the Royal West on England Academy Exhibitions, the Bath Society of Artists and to be shown at the Guggleton Gallery in Stalbridge.  See below for more images.
John Baxter