(For details of prizewinners see  page above 2015 Five Schools Competition)
Laying on our BAS competition prize-giving and display at Hauser and Wirth's Education Centre at Durslade Farm was a real team effort.  A constant presence with us was Debbie Hillyerd who had printed our images on their state of the art A3 printer before letting me loose to crop and label them.  On Wednesday when I arrived with the prints and paper-work two professional hanging staff set to work meticulously measuring up and fixing the images on the wall while a team of BAS members including Damaris Lee, Jane Onslow, Maggie Knight and Fletcher Robinson laid out the refreshments and helped Will and I finalise details.
By 4.45 as expected the crowd of obviously excited students with their families and teachers was gathering on the lawn outside to flood into the room at five, completely filling it with about ninety people. On being welcomed the students were given slips on which to mark their own choice of the top three pictures.  This set off the serious business of them all looking at all the works, regardless of school. To help this happen the pictures were not hung in school groups but randomly and each only had a number attached.  This went very well with all the slips handed in by 5.20 pm.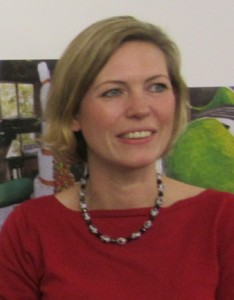 At this point Will introduced Sophie Bellars our visiting judge.  She spoke eloquently of her experience of the schools and about the generally high standard of art she had found and how appreciative we are that at such a busy time of year the teachers at all five schools have been so welcoming to us when we visited them to judge the works. Will then presented the prizes , starting with the certificates of commendation and ending with the three cash prize winners.  In each case there were enthusiastic rounds of applause and Will spoke of what it was about each work which had earned our appreciation.  Afterwards there was time for socialising, congratulating and photographs.
By 6 pm everything was washed, dried and packed away and all the pictures taken down by the BAS team, leaving the room ready for its next engagement.
John Baxter