Two Days with Anthony Connolly,  http://www.anthonyconnolly.co.uk/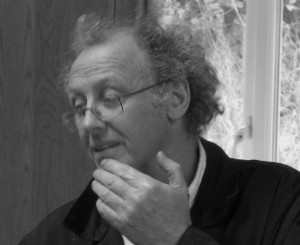 For two days in November a full complement of BAS members took part in a really inspiring course with Portrait Artist Anthony Connolly at Hadspen village hall.  A Goldsmiths trained member of the Royal Society of Portrait Painters and regular exhibitor in their Mall Gallery exhibitions, Anthony is also the author of a book on portrait painting and if you Google his name you can see a considerable number of his portrait drawings and paintings on line.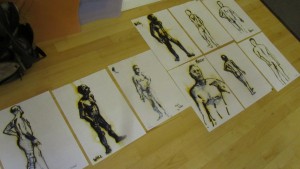 The theme of our course was working with a model and during the first day we were given exercises to get us out of our comfort zone which involved drawing on blotting paper, over painted backgrounds with conte chalks and then preparing monoprints.
The afternoon of the first day and the whole of the second day were then taken up with our own chosen studies of Paul our excellent model.  Some did full body studies, others portraits of him.
Whatever our choice and whatever our style Anthony came around visiting each of us in rotation, seeing what we were aiming for and advising us on that basis. I certainly, and I think all of us, found his approach really helpful and encouraging.  I think we all felt it had been a real privilege to be taught by such a distinguished artist and to receive help from such a friendly, knowledgeable and inspiring mentor.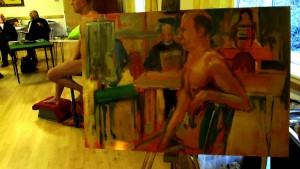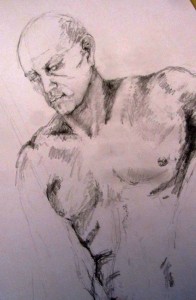 John Baxter