Tuesday 6th September
The sun certainly shone to give us a great day at Fletcher Robison and his wife Marie-Helene's home at Lovington Mill. There they both made us all feel so welcome with Fletcher even providing us with sketch maps of possible sites. Few places could be more "picturesque" or offer more inspiration to tackle interesting old buildings, riverside views and a weir than Lovington Mill.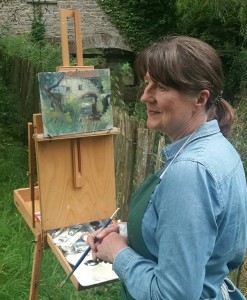 Painting days like this are always an inspiration to get stuck in to drawing and painting out of doors and to tackle subjects outside one's comfort zone. After the concentration of drawing and painting conversation flowed over our sandwiches at lunch time, always a great way to catch up and get to know each other better.
Attached are the works I was able to photograph – shown without identifying who the artist is for they should be seen as works in progress and signs of inspiration rather than completed masterpieces. What is certain is that we all really enjoyed our day. Thank you Marie-Helene and Fletcher.
John Baxter