An art exhibition comparing and contrasting the work of Andy Warhol and William Morris is a bold and unexpected move and one which draws attention to the curator whose idea it was almost as much as it does to the subjects.  But that it seems is part of where Contemporary Art is currently going for Jeremy Deller who created/curated this exhibition is also – as I have found – a Turner Prize winning artist. (2004)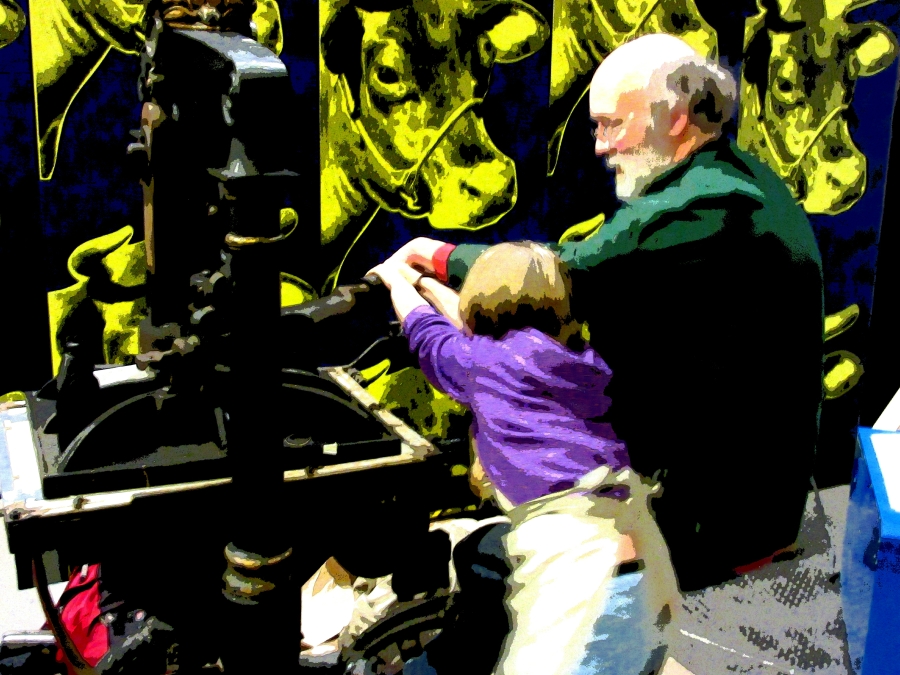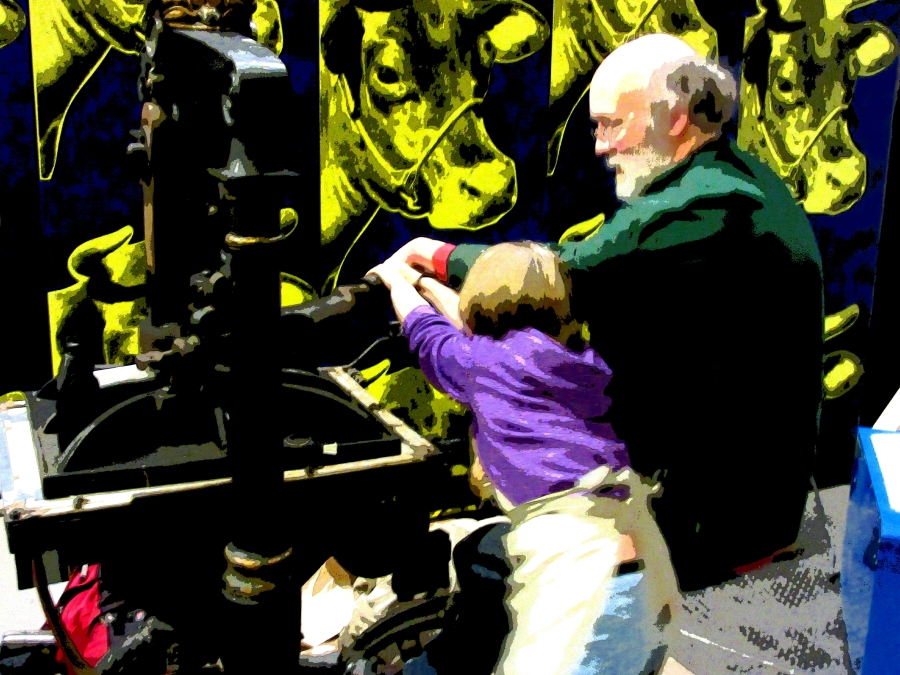 Does it work and is it worth visiting? Certainly. It continues until the 8th of March 2015 and when we visited on the last Saturday afternoon of January the gallery was full with a very Oxford crowd of students, self-confident young professionals, dressed down academic types of all ages with wild hair and no make-up and a good number of children – all having a great time looking, reading or having some hands on experiences – like using the original Ruskin Art School press to make Warhol type prints of a photo of Morris.  (see picture. no photos allowed in the galleries)
The exhibition, which is free, comes with an excellent catalogue and thought-provoking collection of articles entitled LOVE IS ENOUGH.  Replicating what it says is I think superfluous, except to complement Jeremy Deller on putting it together.  So here, for good or ill is my personal reaction.
The first thing that hit me on entering the three chambers of the gallery was  the floor to ceiling wall spaces which have been covered by William Morris wallpaper designs.  In such an unadorned contemporary setting they look bold, unexpected and provide a superb background to the works on the walls.
The second thing that hit me is the huge tapestry, a collaborative work by Edward Burne-Jones, John Henry Dearle and William Morris entitled The Attainment; The Vision of the Holy Grail to Sir Galahad, Sir Bors and Sir Percival.  This is a complete showstopper for it is by far the richest, most colourful, decorative and mesmerising evocation of the Camelot Myth you could ever imagine. I and many others took to a bench to sit awestruck and wonder at it.
Camelot? Yes. So Jackie, John and the doomed Bobby are worked over by Wharhol using other people's photos in an obsessive act of celebrity star worship on silk screen prints – as is Chairman Mao, Jackie Collins and the divine Marilyn – together with Coca Cola.
Then there are the Morris designs, including the pencil drawn and water-colour painted originals which framed and placed on the wall turn a wall-paper design into a – yes one has to say it – beautiful work of art.
We easily spent a couple of happy hours drinking it all up and finishing off with coffee and caramel bites in the café.  And who won?  The master of ephemera and self-publicity who predated the internet and Face-Book with his unforgettable quote that the day will come when everyone will have fifteen minutes of fame, or the privileged, earnest socialist who made a lot of money selling his designs to the rich who alone could afford Art and Craft pieces and whose designs continue to be produced and utilised in homes great and small today?  Go and see and make your choice.
John Baxter