'Winter Landscapes'  by Colin Wiggins                                        
11 December 2019
Report by Will Vaughan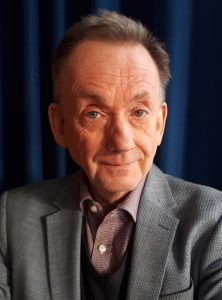 Once again the Bruton Art Society has enjoyed the pleasure of a talk by Colin Wiggins, former lecturer and curator of special exhibitions at the National Gallery. Colin is well known for the high quality of his lectures, in which he combines entertainment and information in his own unique manner. Last time he spoke to us four years ago, he told of his activities at the National Gallery, in which he encouraged leading contemporary artists like Peter Blake, Sean Scully and Paula Reago to produce works that engaged with major works in the Gallery's collection. This time he was inviting us to look again at the seasonal theme of Winter Landscapes, with a particular emphasis on snow scenes.
He took us from the earliest representations of snow in the late middle ages – in such exquisite works as the Tres Riches Heures of the Duc de Berry – to fascinating colour explorations of Monet and other Impressionists. He also brought in treatments outside the European tradition, in particular the marvellous winter scenes of Japanese woodcut artists like Hokusai.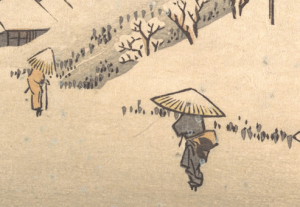 Katsushika Hokusai
It is a special strength of Colin's lecture that he encourages us to look at pictures carefully and in detail. Too often people are likely to think that they have seen everything about a picture in a few seconds. Colin demonstrated how much this is not the case. He did this at the beginning of his lecture by showing us details from a painting before revealing the whole of it. The work in question was Pieter Breughel the Elder's marvellous Hunters in the Snow – a picture that Colin ( rightly in my opinion) claimed to be one of the greatest winter scenes ever painted. By this method he made us aware of the little figures on the ice and all the individual acts they were doing – skating, pushing sledges, gathering wood – or birds scavenging for food. From such details he was able to give us new insights both into the life of the period and also to the painting methods of the day.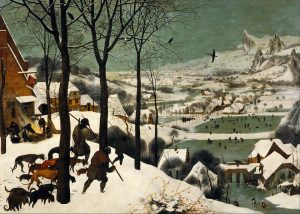 Pieter Bruegel the Elder
Colin's lecture was truly enlightening as well as entertaining. We hope he may return one day to give us another demonstration of his expertise. Meanwhile, if anyone wants to
explore this further, they might try some of the recordings of his lunchtime lectures at the National Gallery which are now available on YouTube – His one on Constable's Haywain is particularly to be recommended.
There were more than a hundred members of the society at this lecture, which was followed by an excellent festive party provided by members of the committee and helpers. Many thanks to all of those who enabled this event to take place.