Trees in 19c British & American Art by Professor Christiana Payne
16 January 2020
Report by Will Vaughan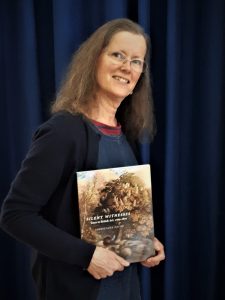 Christiana Payne, Professor of the History of Art at Oxford Brookes University, has had a distinguished career researching British landscape art and genre painting of the nineteenth century. In recent years she has been exploring the representation of trees and the significance that they had for artists and amateurs in the period. Her recent book, Silent Witnesses; Trees in British Art 1760-1870, focussed on the work of British Artists, but in this lecture she extended the theme to cover American artists of the period as well.Perhaps it was as a reaction to the growing urbanization caused by the Industrial Revolution that artists in the late eighteenth century became increasingly involved in representing the natural world. Trees particularly
fascinated them for their nobility and the sense that they were silently bearing witness to the splendours of nature. It is a fascination, Professor Payne reminded us, that has remained with us. This is largely because the problems created by industrialization have not gone away. Indeed they have become greater and more serious, as the present day environmental crisis makes clear to us. From this point of view the tree painters of the nineteenth century can be seen as pioneers of a movement that flourishes amongst us with increasing urgency. While focussing on nineteenth century tree painting, Professor Payne made us aware the continuation of the tradition they promoted, showing a fine tree photograph by contemporary artist Tacita Dean, and making reference to the arborealist group of painters who flourish today in the west country. She also displayed a copy the 'Charter for Tree, Woods and People' issued by the Woodland Trust in 2017 to promote the presentation and development of trees at the present time of crisis.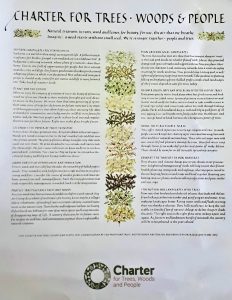 Above all Christiana Payne made us aware of the beauty and skill of tree studies. Prime amongst these, in my opinion, are the wonderful pencil studies made by John Constable, in which he explored the minute features of different species. A dedicated naturalist, Constable was keen to observe the features of individual trees that he knew, particularly those on the banks of his native river Stour, and the stately elms in Old Hall Park East Bergholt.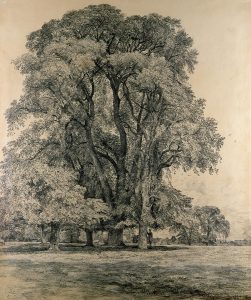 Elm Trees in Old Hall Park – Constable
Another fine series of trees were provided by early photography. Professor Payne pointed out that winter trees were a particular favourite amongst photographers then. This was partly because limitations in the process then made it difficult to record the effects of leaves, whereas bare branches could be captured in all their detail and splendour. Many of the early tree photographers were amateur artists, and indeed tree painting and drawing was extremely popular amongst such people at the time. Professor Payne showed us some of the manuals that were prepared by professional artists such as Alexander Cozens at the time, which bear witness to the high standards achieved.
In many ways American artists could be seen as carrying on the lead set by the British. This is particularly the case with Thomas Cole, who was in fact a Lancashire born artist who went out to settle in America. But the Americans had an even greater range offered by the vast terrain that lay before them. There were also trees of even greater antiquity to revere, as with the 'Great Trees, Mariposa Grove, by Albert Bierstadt.
Altogether we were much entertained, not just by the fine works we were being shown, but also by the dedication and enthusiasm of the speaker. There were many questions asked at the end of the talk, a sure sign of how much members of the society had been inspired by Professor Payne's talk.