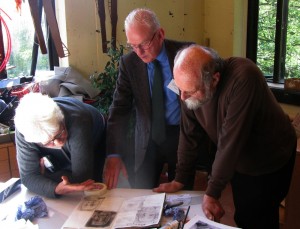 Judging the first of our Five Schools GCSE Art Competition has been an exciting and rewarding experience for the three of us, Tessa McIntyre, Will Vaughan and myself. For all the schools this is a tough time of the year with students and teachers under a lot of pressure with exams, yet despite that and despite some time-consuming technical glitches, all five schools sent in their 6 images which are now up for all to see on this site and have already attracted hundreds of viewers. Our intention is to leave them there for at least a year.
When it came to judging the entries Will had stated from the start that this should be done from looking at the actual works and not from the photographed images and so this week that has been what we have been doing.  Again we were very impressed with the way the schools welcomed us and went to considerable trouble to display their works well. Here we saw the importance of confronting the actual works where their scale and sometimes the subtlety of tone and colour was not accurately caught in the photos. The result was an enjoyable but agonising time making up our minds as to which works most deserved prizes and commendation.
I think anyone looking at the images will agree that the standard across the board is extremely high showing a wide variety of skill, imagination and creativity, something which for the first time can now be viewed and shared between the schools and beyond.
On Wednesday 21st May at 4 pm all the artists and their teachers and members of the BAS committee will be meeting at the Market House in Castle Cary where we will be displaying A4 photos of the works (impossible to have the actual works until the exams have all been marked) . There will be a drink and a nibble and a chance to interact and of course the prize-winners will be announced.  Watch this space.
John Baxter