Meeting at 3 pm in the handsome new Market House room in Castle Cary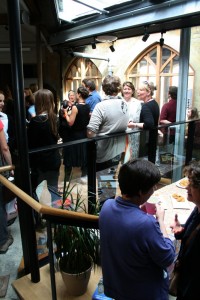 Damaris Lee and Maggie Knight set out tea, drinks and delicious cakes  while Will Vaughan signed certificates and I arranged a display of A4 photos of the works. This was done just in time as the artists and their teachers started to arrive. They were all issued with voting slips and asked to choose their favourite three works which sparked off lots of discussion.  Everyone was there by four pm as asked and in addition to the art teachers, we had two head teachers Mrs Nicola Botterill from Bruton School for Girls and Mr Chris Beech from King Arthur's Wincanton together with Debbie Hillyerd the Events Co-ordinator for Hauser and Wirth.
Will then issued seven certificates of commendation for excellent work, culminating with the two runners up, Sam Young and Georgie Lewis, who won £15 prizes and Holly Austin who took the £50 first prize. Full details follow the images on the site.
After photographs and congratulations everyone departed by 5pm. The atmosphere had been excellent with everyone enthusiastic about the standard of the work displayed and keen to look at what other students and art departments had been doing.
On adding up the points given on the 33 voting slips handed in the results were as follows.
Georgie Lewis for her pencil portrait of her grandfather 36 votes,
Beth Moody for her colourful eyes, 33 votes
Holly Austin for her pencil and painted pair of masks 28 votes.
Eloise Reeves 21 votes for her painting of a family standing on a beech before a storm
Yuki 20 votes for her skilfully manipulated black and white photo of a falling girl.
No-one else received more than 10 votes.  Obviously as expected there was a difference between what the judges had chosen and what the artists, plus a few others present, rated highly. Judging art is always highly subjective but we hope this exercise will inspire and stimulate both the artists and their teachers. We the judges were certainly inspired.  John Baxter