Chichester certainly looked inviting when we arrived on a sunny June day and in just over two hours from Wincanton, less time than a coach journey into London!The Pallant House Gallery never fails to please and 'Stanley Spencer; Heaven in a Hell of War' certainly proved an arresting Exhibition.  Some of us had viewed Spencer's large paintings at Burghclere.  Their home at The Sandham Memorial Chapel is undergoing conservation work by The National Trust so much of the work has been well exhibited at Pallant House and we could view these large works at eye level.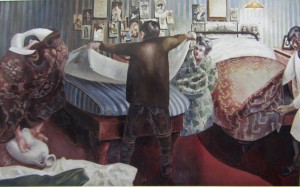 Rather than dwell on the horror and waste of war, Stanley Spencer concentrated on the tedium and the mundane, the recovery of wounded and also reincarnation of those who did not return. We were able to view his delicate preparatory pencil sketches and detailed correspondence to Louis and Mary Behrend, who had commissioned the work for a Memorial Chapel to commemorate their son.
Spencer based his work on his recollections of Beauford Hospital in Bristol, where he had served as an orderly, the Army camp near Aldershot and his active service in the Macedonian campaign.
The murals for the Altar and the lunette paintings show his unique way of viewing scenes eg. an aerial view of an officer, sitting astride his feeding horse while he studied the map.  All the figure compositions, such as 'Tea in the Hospital Ward' or 'Filling Tea Urns' make patterns and shapes and create pictorial designs but which are poignant and real.
The very large paintings, such as 'The Resurrection of Soldiers', could not be included because of size but for those wishing to see these, work is to be completed on The Sandham Chapel by the end of the summer 2014 and all the work will have been returned to Burghclere.
Pallant House has many masterpieces and there was time to find those works not spotted before.  I was pleased to find a couple of Revilious lithographs from his Submarine Series done in 1941, one of Henry Moore's touching underground sketches in graphite and white chalk ' Two Sleepers' as well as a Barbara Hepworth sculpture.
We joined our coach outside the Cathedral, where probably, all of us had entered to see John Piper's vibrant altar piece and other treasures to be found in the Cathedral.  Some members had also managed to do a bit of special shopping, generally for items not to be found in Yeovil, even oysters in a little cool bag from M&S!
What a treat of a day it had been, sorry that so many of you missed it!
Frances Neal