Hauser and Wirth Somerset: An International Art Gallery at Bruton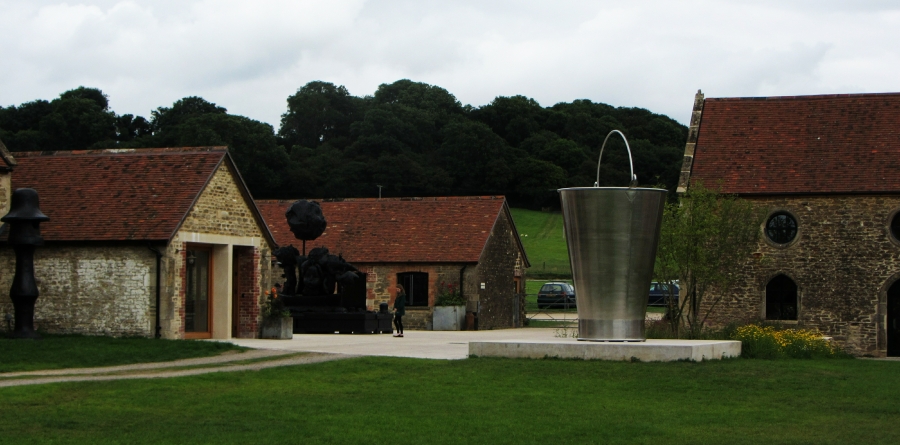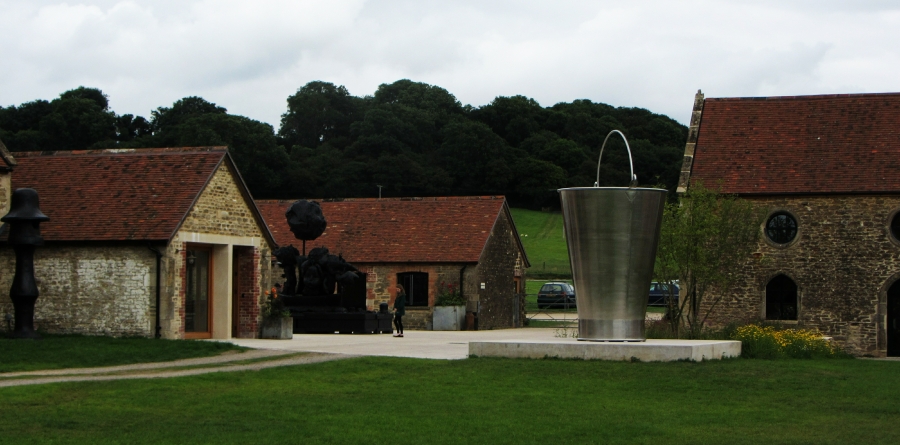 The great day has arrived. The splendid new art gallery that Hauser and Wirth – the celebrated international Swiss art dealers – has been planning at Durslade Farm, Bruton, has materialized (fig 1.). From Tuesday to Sunday throughout the year it will be open free to all comers.
From the moment that they announced the scheme, gallery owners Manuela Hauser and Iwan Wirth made it clear that they wished to engage closely with the local community when setting up this new venture. Thus, while bringing the contemporary art that they deal in to Somerset, they are also keen to ensure that this will bring benefits to the indigenous population. This is a highly refreshing attitude. Avant-garde art is often seen as taking place in a refined world of its own. Here there is an opportunity for it to communicate more broadly. As Alice Workman, Director of Hauser and Wirth Somerset has stated; "there is nothing quite like this in the world".
The project has many facets. Central to the project is a spacious exhibition hall, created out of a refurbished barn and related buildings (fig.2)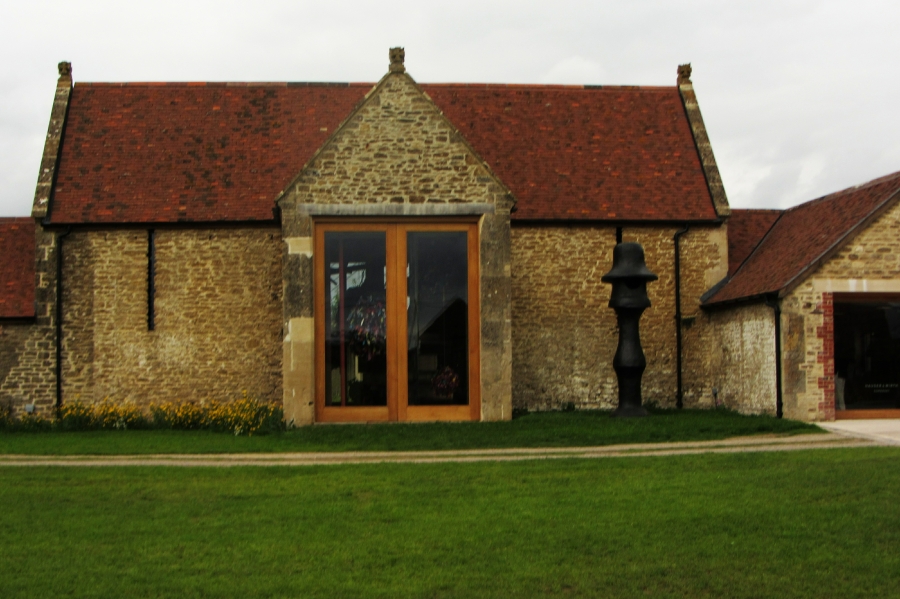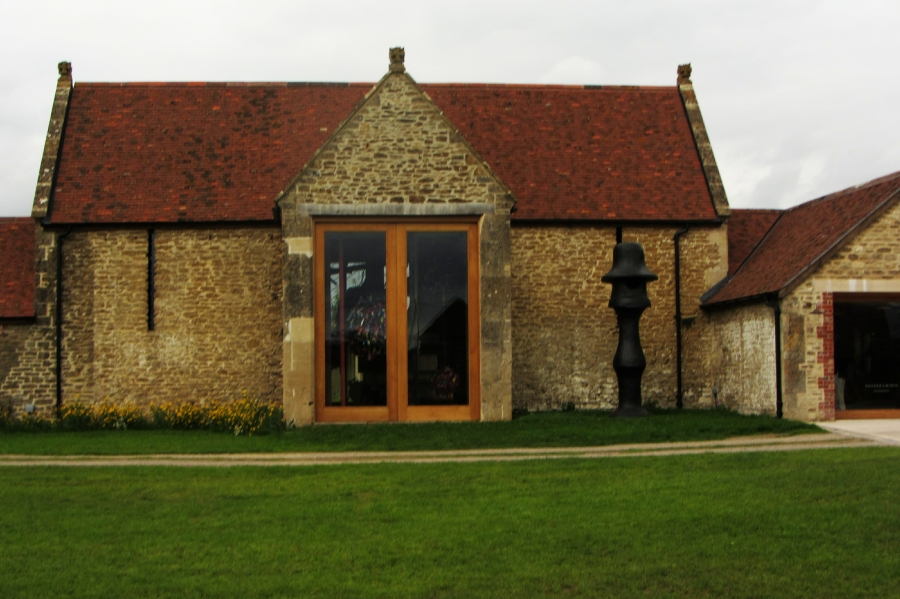 Here Hauser and Wirth will stage a series of retrospectives of major artists in their stable. The opening show is by the installation artist Phyllida Barlow. Barlow will be known to many in the art world for her dramatic current installation at Tate Britain. Here she fills the gallery with a show entitled 'Gig', that aims to match the celebratory mood that Hauser and Wirth have promoted to accompany their arrival in Somerset. There is a vast room full of colourful pompoms, a former pigsty with a suitably pinkish construction of slicing forms and a giant assemblage of chairs. There is as well a room ringed with monolithic type girders set in concrete bases, that might be some reference to the stone circles of the west such as Stonehenge and Avebury. There is certainly an awesome air to the room, suitable for ceremonial spaces. Barlow was for a long time a much respected teacher at the Slade in London and her late flowering as an installation artist has brought her many new admirers.
One of the schemes that Hauser and Wirth have established in Somerset is an artist in residence programme. This began last year with the Swiss video artist Pippilotti Rist being the first incumbent. From now on the artists in residence will be able to inhabit the restored farm house at Durslade. The word 'restored' is used lightly here, for the first impression of the house is that it is largely unrestored. But this is highly intentional, for reasons that soon become evident as one goes around the building. The Parisian architects engaged in the scheme, Laplace, agreed with the owners that they wished to retain a sense of the history of the building, which had been unoccupied for many years. The old house, which is largely neo-gothic in style , lends itself to the mysterious or romantic treatment. The result is an extreme exercise in shabby chic, with walls left scraped down without refurbishment. Yet this is counterpointed with magnificent installations. Most remarkable is the decoration of the dining room by the Argentinian Guillermo Kuitca. Based on the low-key colours and angular spatial distortions of cubism, it provides a mesmeric panorama of forms that turn an ordinary room into a magic space.
Equally intriguing was an adjacent room in which there was a video display by Pippilotti Rist, one of the fruits of her residency in Bruton. In a darkened room a video is played through an installation of hanging bottles, producing intriguing visual effects.
The farmhouse is not normally open to visitors. Next to it is a long run of converted outbuildings very much dedicated to the public. This is the community centre, where a wide range of activities are planned. These span open house family Saturdays and a Soil Culture Residency, as well as workshops with local schools, projects with the Prince's Trust and a summer school with the Bristol Old Vic.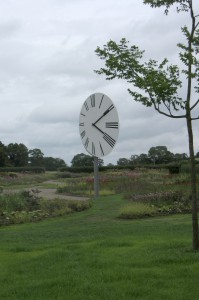 While promoting contemporary fine art, Hauser and Wirth are also great supporters of rural life and horticulture. Durslade Farm continues to function as a working farm, and there is also a new garden laid out by the renowned Dutch garden designer Piet Oudolf – best known for his work on New York's High Line, a public park built on a historic freight rail line elevated above the streets on Manhattan's West Side. The garden at Durslade will not be open until September, but visitors can glimpse, the undulating forms that are shaping it, and the intriguing giant clock the presides over it (fig. 4).
Dotted around the spaces are dramatic works that make the link between art and garden. As well as the giant clock already mentioned, these include a version of the celebrated giant spider, Maman by  the French-American Louise Bourgeois that lurks menacingly in the shrubbery.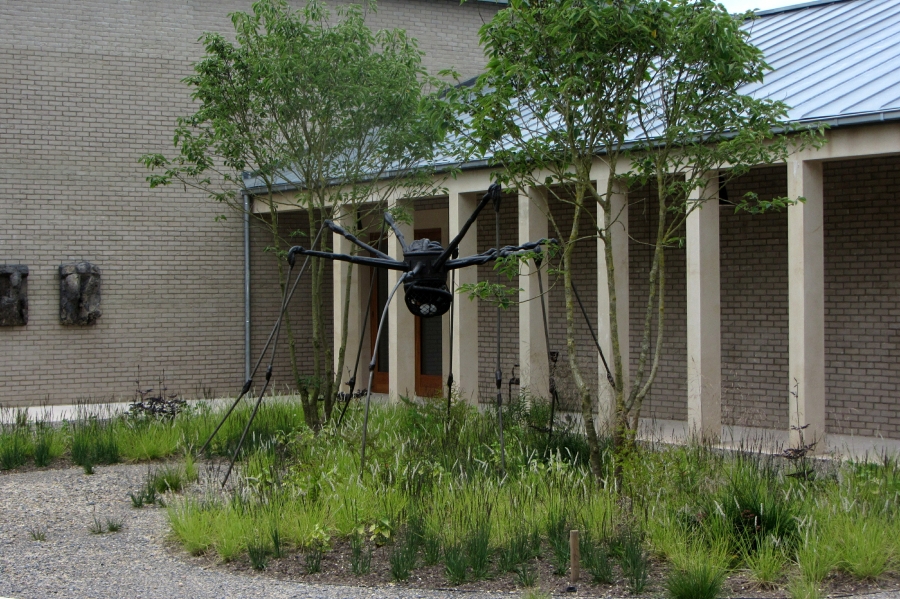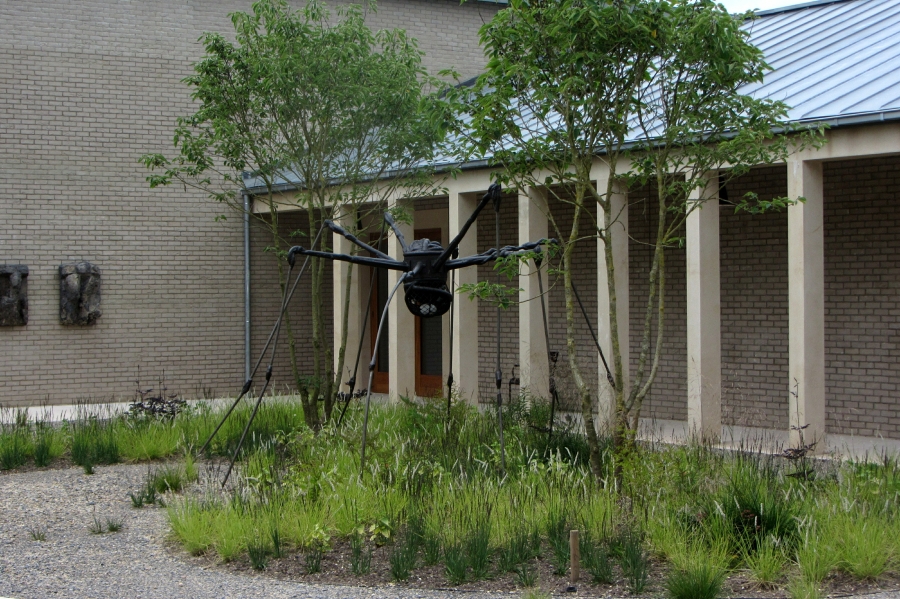 There is also a 16ft stainless steel milking pail, the work of the artist Subodh Gupta, making a witty reference to previous activities on the farm (fig1.) There is also a reassuring message written in neon lighting on the walls of the farmhouse, by the British master conceptualist artist Martin Creed 'Everything is going to be alright', which certainly accords with the feel-good message communicated by the whole establishment.
No major gallery is complete these days without a restaurant. At Durslade Farm the restaurant is a work of art. The display by the family of Dieter Roth, an artist celebrated for his artist's books and working with found materials, including foodstuffs. It contains an installation in tribute to Roth and a wide-ranging display of works of art from the private collection of Manuela and Irwan Wirth. The food is all locally sources, and much comes from Durslade Farm itself, which is a working farm
As part of their opening celebrations, Hauser and Wirth held a generous part to which a large number of locals were invited. The good will expressed towards the community was evident everywhere. It was a joyous occasion in which visitors could not only wander through the galleries, but also enjoy the garden and the artist's house that is for their resident artists. They were also regaled with a splendid feast of local meats a hog roast etc. in a large tent. There were entertainments. A helter skelter and traditional 'roundabout' kept children amused and emphasized the festive air. There was splendid face painting in the community room
Music was played and for those who lingered there was a conjuring performance by the Great Xa at 4.00.
Since it has opened the gallery has already become a major attraction, and it is already clear that it will  benefit the local community in many varied ways.
Will Vaughan