Making Art Matter: Clifford & Rosemary Ellis  Victoria ART Gallery, Bath,  8 September to 25 november 2018  |  Normal  admission charges apply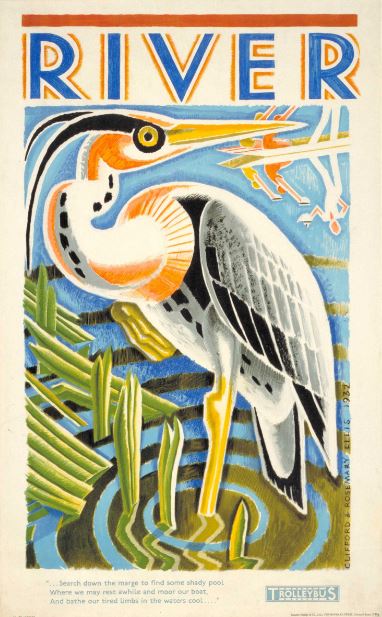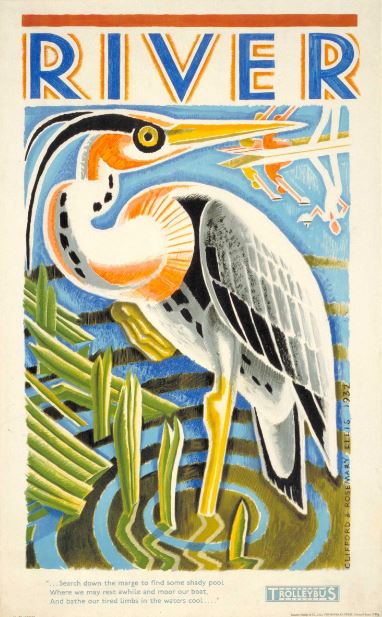 Few would have heard of Clifford or Rosemary Ellis but their contribution to art in and around Bath in the immediate Post-War years was immense. Clifford Ellis was educated at prestigious London art schools, where he met his future wife, the sculptor and art historian Rosemary. After their marriage the two worked in tandem, designing posters for, among other clients, Shell and London Transport. But in 1936 they decided to re-locate to Bath and immediately set to changing attitudes towards modern art. However they continued to design, notably between 1944 and 1985 the iconic dustjacket designs for Collins New Naturalist series of books.
But it is their contribution to art education that they will best be remembered for. Clifford Ellis was the Principal of the pioneering Bath Academy of Arts from 1946 to his retirement in 1972. It was one of the first art schools outside London to adopt a holistic approach to art education, an approach greatly influenced by the Bauhaus art school in Germany. Students studying in Bath were encouraged to explore a range of creative activities including music, puppetry, textiles, and ceramics. The school attracted major British artists on to its payroll, including Walter Sickert, Kenneth Armitage, William Scott, Peter Lanyon and Howard Hodgkin.
The exhibition will include work by those artists who taught at Bath Academy, the designs of Clifford and Rosemary Ellis and archival material, rarely seen in public.