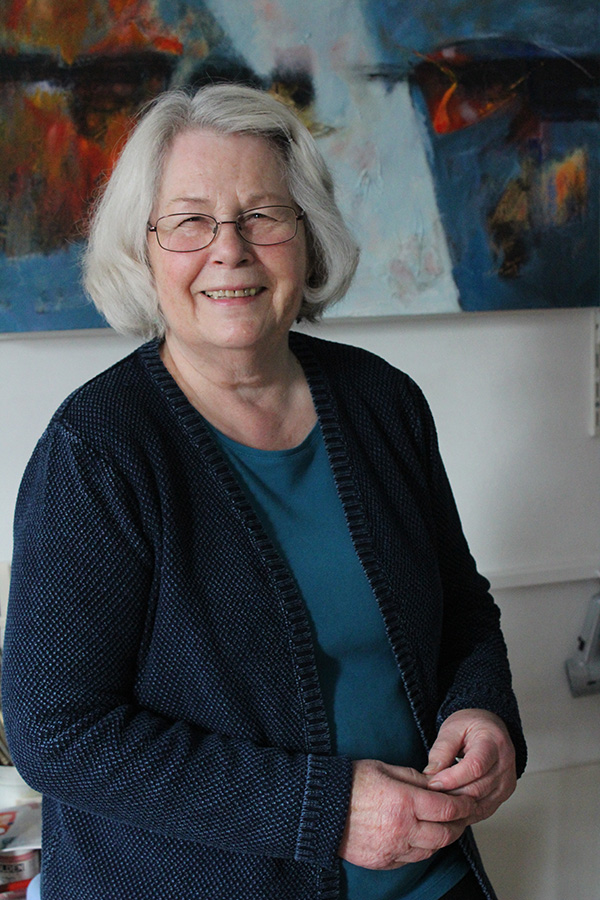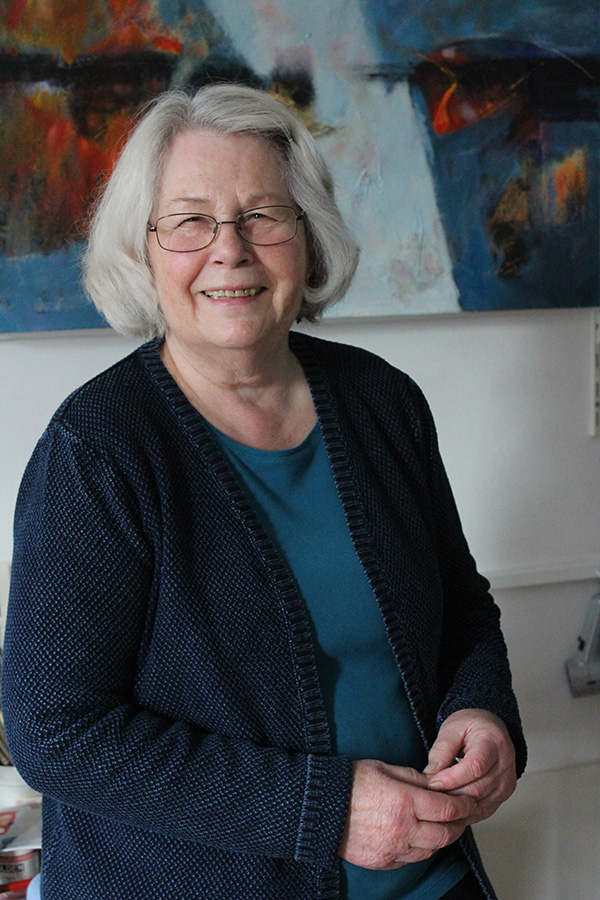 This year, 2018, Hilary Turnbull, a long-term and respected member of BAS who is also an artist who is widely recognised beyond our ranks, was awarded the Joy Barnes Award for her painting. This is the most prestigious prize our society can give. 
To get a good idea of Hilary's work it is worth turning to the Internet https://www.hilaryturnbull.co.uk/gallery/.  There you will discover she has quite a presence, her gallery alone carrying 126 images.  Her site also reports a formidable list of exhibitions at various galleries around the country and evidence of many sales. This gave me the opportunity to spend time looking carefully at her work online before coming to see her at her home in Mere. There I was given a warm welcome.
Hilary's father worked in Singapore – she mentioned two school holidays there and being evacuated to Australia, and boarding school in Kent, "With a wimp of an art mistress."  Secretarial training lead to work in the City, "As it did then," she commented.  Marriage and two children followed.  As they got settled in school she started teaching herself to draw and paint and her interest in art grew. 
"Did you then go to Art School?" I said. "Oh no." she replied.  That came to me as quite a surprise for the works on her website are all so distinct, self-confident and in a personal style that could not look more dedicated and professional.  I wondered how that had developed.
This she explained as we moved around her home which is handsome and immaculate, with everything in its place. The walls are hung with a fine collection of her own paintings and those of friends and artists she admires, and each one is carefully placed to fit in with its setting and several show how her work has evolved from the figurative to the abstract. She also took me into her studio with its easel and large finished and unfinished works.    
She described attending a drawing class in Weybridge, doing life studies, still life and later ten years of classes with artist Rob Woolner.  "He taught me to express not just what I saw, but what I felt," she said. She also described how she went out to capture landscapes with her husband Hugh, a keen and accomplished photographer.  Seeing what he achieved with the camera while she sketched and painted pushed her towards producing work that was radically different. On visiting the big galleries she was attracted by abstract works, but also became determined that her work should not look derivative and so her style developed. Eschewing straight lines and boxy shapes her compositions flow while her attention to often rich and warm colours is carefully balanced with the cool and light areas in each canvas.
The sad death of Hugh in 1997 was an event which dramatically changed her life. With her children grown up she found she was now free to devote herself to painting as never before, spending many hours at her easel every day. Working on canvas with acrylic she started adding rough patches of floor-worn hessian and sharp dark scratches. Each painting evolves, often over a considerable time until she feels she has caught the mood, colours and balance it needs. I cannot express what she does better than she has herself, so I quote:
"I am interested in shape, colour, tone and texture and although I draw constantly and take photographs, these images are for reference, and the drawing is compulsive. It is the bringing together of the parts into a satisfactory whole that interests me. Memories of places visited, people met and conversations held will often spark an idea. Sometimes I will pursue a particular shape because it allows me the freedom to explore the endless possibilities of different colour combinations, the balancing of large and small areas and the introduction of texture. My interest in mixed media started about 4 years ago when studying the surface of rocks on the Cornish coastline."
Personally, I often find abstract works difficult to appreciate, but I find Hilary's works warm, engaging and honest. Sometimes they hint at figurative themes, but through her subtle use of colour and shape they always communicate carefully reflected upon emotions. 
For me doing this profile has been an eye-opener and it has been a privilege to spend time with her and her work.  John Baxter.