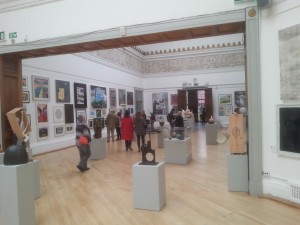 Visit to Royal West of England Academy's 163rd Annual Open
On Thursday 15th October 22 members of the Bruton Art Society went to visit the 163rd Annual Open Exhibition of the Royal West of England Academy in Bristol. As always, this major event in the art calendar of the West had much to offer, providing a representative coverage of much of the best work being produced in this region. Social status was provided by a pair of carefully executed watercolours by HRH The Prince of Wales. The reputation of the RWA as a haven for spirited gestural painting was maintained by the vigorous seascapes of the President, Janette Kerr. A gentler form of painterliness could be found in the sensitive close-toned White Still Life (188) this year's guest academician, the St. Ives painter Rose Hilton.
The large main room of the RWA provides ample space for large works to be displayed to advantage.(ill.1) I particularly liked the huge monochrome acylic painting Homes in the Forest (11) by Kenji Lim.(ill.2) With its tall tree trunks and low illumination it suggests the mystery of a sinister fairy tale.  Abstraction is much to the fore, including a work by Fiona Mackenzie-Spence,a Bruton Art Society Member(98).  Other members present in the room were Kay Lewis-Bell(144) and Annie Fry.(147; ill.3) Many congratulations to all of these, and to the other Bruton Art Society with work in the exhibition. There are six altogether; Annette Burkitt, Cathy Ensor, Annie Fry, Kay Lewis-Bell, Fiona Mackenzie-Spence, Will Vaughan
While traditional painting and the major developments of art in the past hundred years are present in strength here, there is less of the more recent and more anarchic developments. There is little that might have drawn inspiration from Bristol's most famous contemporary artistic personality, the graffiti artist Bansky, who has been fascinating visitors down the road at Weston-super-Mare with his dystopic vision of contemporary culture, Dismaland. On the other hand, there is much that is witty and playful, particularly in the area of sculpture. Notable examples are Jason Lane's Singer Dog (518)  made out of an old sewing machine, and the elegant Mayfly (165) by Dean Patman constructed out of recycled spoons (ill.4)
There was much powerful print work, of a high technical standard. Particularly impressive was the big multiple block print, Sea Rocks,(16; ill.5)  produced byPine Feroda, a collective of five printmakers based in North Devon.
The RWA has also embraced the modern definitively in its inclusion of photography and digital imagery on its walls. One installation, Terry Flaxton's New York Sketches: Winter Diptych (292; ill.6) makes clear the possibilities of combining animated and static forms in a digital collage of shots of the Big Apple in which stills and video clips are intermingled. This indicates a tendency that is likely to increase in the years to come.
Altogether the feeling was that this exhibition demonstrated a rich variety of high quality work that repaid careful study as well as providing enjoyment. It is certainly well worth a visit.
Will Vaughan